ATTENTION: Solo-Entrepreneurs, Intra-preneurs, Speakers, Coaches, Authors, Consultants, Service Providers & those who desire to earn in direct proportion to their Incredible Factor 
"How to Unleash Your Incredible Factor with Consistent Mindset, Marketing & Money-Making Strategy for Your  Business"

High Content, Questions, Answers, Strategies AND Solutions… Every Single Month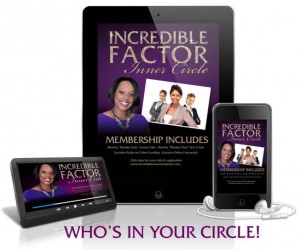 From the Desk of Darnyelle A. Jervey
Newark, DE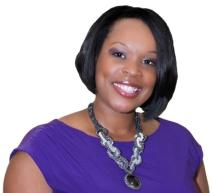 Dear Incredible One (Yes, I'm talking to you!),
The Incredible Factor Inner Circle helps you gain success FASTER in your Business!

Are you frustrated because your gift is not producing the life of your dreams?

 Are you clear that you are great at what you do yet you've not mastered the marketing and mindsets necessary to get out there in a big way?

 Are you looking for a way to stay connected to your purpose and passion while creating a life that gives you freedom?

 If you knew that you could do anything in confidence, would you develop a level of consistency?


If someone gave you the tools to effectively expect exactly what you want in your life, would you get excited?

 Are you looking for strategies to help you make more money and get more time to live the life of your dreams?

 Is your business moving slow because you've yet to develop a systematic approach to working on your business?

 Are you afraid of marketing but know that you need help to reach your ideal client every time?

 Is your service based business yielding less than $100,000 a year and you are ready to STOP attempting to go at it alone?
If you answered "Yes!" to any of the questions above, Incredible Factor Coach Darnyelle A. Jervey and Incredible One Enterprises, LLC is pleased to introduce you to The Incredible Factor Inner Circle.  We are committed to providing a significant resource of unlimited support to empower you to Bring Incredible BackTM by unleashing your Incredible FactorTM .  Recognizing and embracing your Incredible Factor (your signature business move and/or secret sauce, unique selling propostion and hot undeniable gifts that allows you to render Incredible service to the world whether full or part-time)…With the RIGHT strategies, mentorship and support, you CAN define, leverage and unleash your Incredible Factor increasing your profit streams and growing your life.
When you learn the Incredible Factor FundamentalsTM  and begin to employ them to grow your life and business, you will begin to stand out in ANY CROWD.
Inner Circle members are achieving major success as a result of being connected to Coach Darnyelle who has gone from intentional success in her corporate career where she went from representative to VIP  in just 3 years, to earning her 1st Pink Cadillac in Mary Kay Cosmetics 5 months after quitting her Corporate 6-figure income job, to creating a marketing and empowerment small business development firm that is empowering and transforming the lives of hundreds of thousands worldwide. Darnyelle A. Jervey has figured it out and is ready to share what she knows with you to teach you how to Leverage Your Incredible Factor. She is sharing marketing, mindset, systems and strategies along with Incredible empowerment strategy to GROW your life and business. Trust me, it's possible! The strategies that she teaches in the Inner Circle are helping her clients and students to experience a Quantum Leap that is helping them to live the lives of their dreams….
"When you are interested, you do what's convenient; when you are committed you do whatever it takes."  John Assaraf
With an unbelievably "easy on your pocket" investment, you can learn how to take your life and business to the next level in a group setting with Coach and Mentor Darnyelle A. Jervey.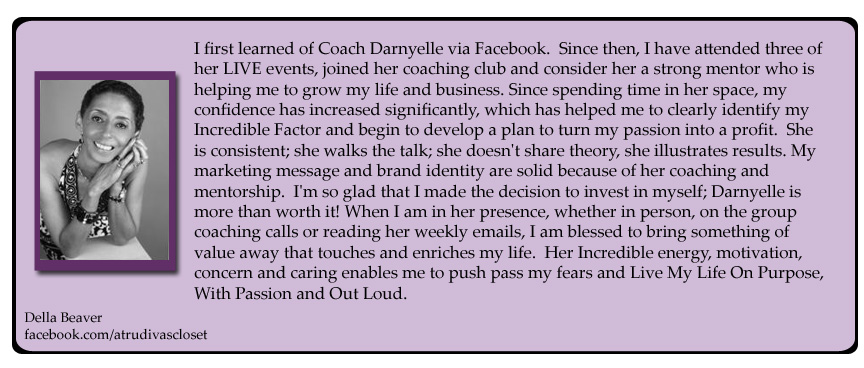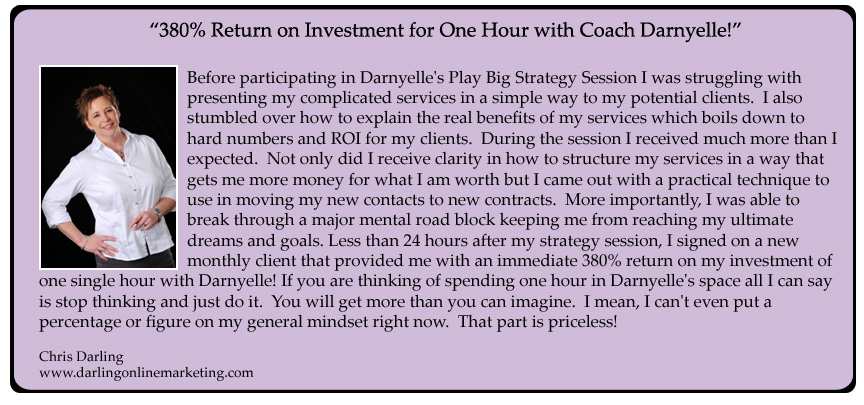 As an Elite Inner Circle Member, You Will Enjoy The Following Benefits:
1. A LIVE Monthly Call with Incredible Factor Coach and Mentor, Darnyelle A. Jervey
Features high-value, high-content life & business topics, question and answer and "hot-seat" laser coaching for members only.
Each month, you will recieve high-value, high content strategy (not theory) but proven to work to maximize your business.
Darnyelle has already invested thousands and thousands and attended many seminars to create a system that works so you don't have to! You will learn keys to building your life and business each and every month from the comfort of your home or office. The ideas have been refined with an added Darnyelle spin to give you the time-tested, proven skills, strategies and solutions to define and unleash your Incredible Factor.  These coaching calls are not theory (yes, we had to repeat that) they are proven! Darnyelle will provide you with step by step tools that you can immediately implement  in your business.
AND BEST YET…YOU WILL HAVE ACCESS TO ALL CALLS IN THE INNER CIRCLE AS SOON AS YOU REGISTER!
2. Monthly Q&A Call with Coach Darnyelle
This is your opportunity to have Coach Darnyelle answer your questions  and to help you through your challenges. Each month, the phone lines will be open to allow you to have 60 minutes of access, on a first come, first served basis.  That's right, laser coaching at its best.
3. Unlimited Access to Premium Empowerment Content via the Audio, Video, and Article Vault: Radio Shows, Expert Interviews, Empowerment Calls, FREE Teleseminars, Coaching Calls, Weekly Videos, Blogs, Articles, Etc.
Basically you get access to everything we've got. You can even download them to your Ipod and listen whenever and where ever you'd like. Enjoy Unlimited Access to Expert Interviews on topics ranging from Confidence to Marketing, Weekly FREE Empowerment on An Incredible Moment with Darnyelle Radio Show including topics providing insight, tools, tips and techniques for personal and professional development and growth – with options to chat and call in LIVE with questions.
4. Exclusive Member Area Only for Questions & Answers
As an Inner Circle Member, you will also enjoy the following:

Member Only Discussion Forum

Member Only Prices on IOE Products – Books, CDs, DVDs, Apparel, and other Empowerment Materials

Special Member-Only Rates to IOE LIVE Events

$97/month Rate Lock In (Regardless of future increases, you will always pay the rate that you joined at)
GET YOUR INCREDIBLE FACTOR INNER CIRCLE MEMBERSHIP NOW
Please Note: After a 30 day FREE Trial plus a handling fee of $5.00 You will continue to bring Incredible back into your life for a monthly investment of $97! There is no contract, membership is month-to-month. Stay as long as you like, up grade to another group or private access program, our goal is simple to provide skills, strategeis and solutions to unleash your Incredible Factor! Understand that your membership in the Incredible Factor Inner Circle is month-to-month and may be canceled at any time in writing.
Be Incredible,